Investing consistently—the cure for bad timing.
Investors buy and sell at the wrong time. When the market is booming, they buy, and when they think the market's in trouble, they sell.1 And investors chase high-performing funds, "hot" stocks, and fads. The magnitude of wealth lost through bad timing and poor choices is stunning.
What Not to Do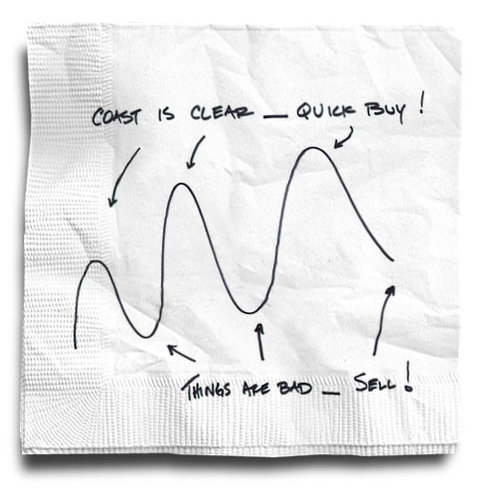 Reprinted from Carl Richards, Behaviorgap.com
To see what that looks like, check out data on investment flows into and out of various asset classes in 2012. Then compare those decisions to the subsequent 2013 returns.2 Investors did the opposite of what they should have done. Enormous investments were made in taxable bond funds in 2012—which returned next to nothing in 2013. Enormous amounts were withdrawn from U.S. equity funds in 2012, which then proceeded to rack up 2013 gains of 35%.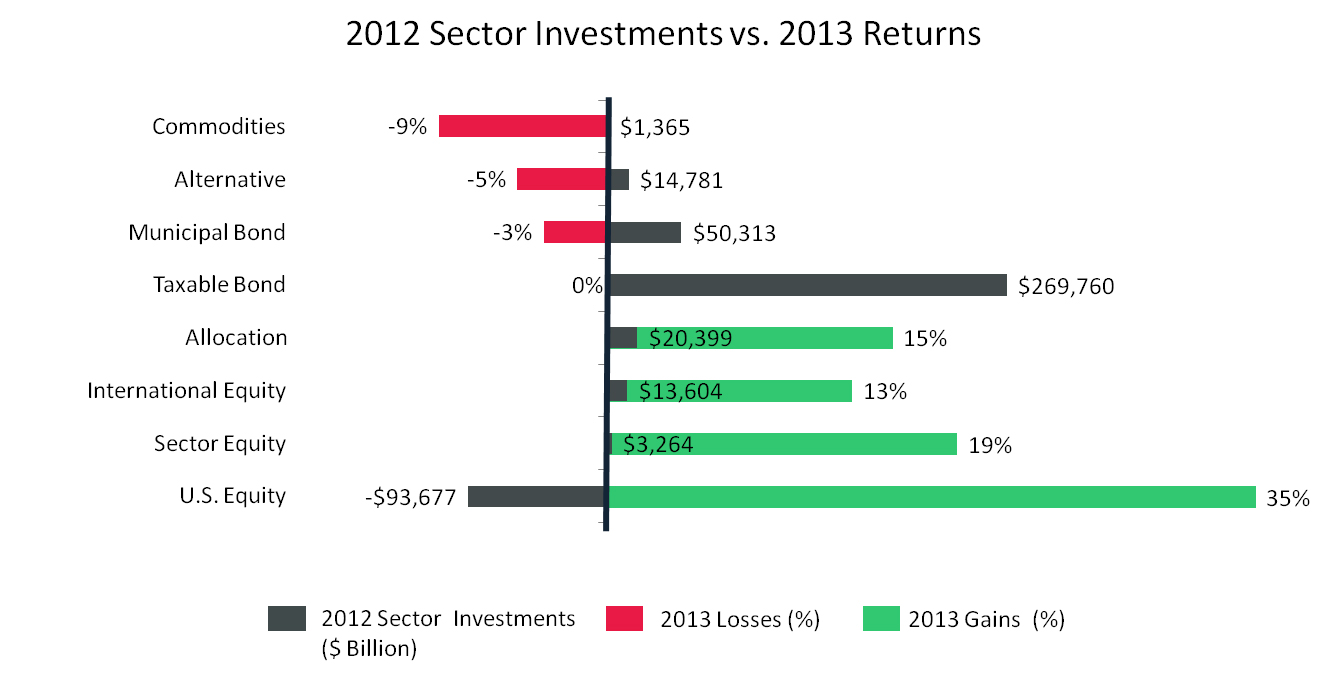 Data Source: Morningstar
And here's another example:
| | |
| --- | --- |
| 10-year average return of all mutual funds (stock and bond): | 7.3% |
| 10-year average return generated by mutual fund investors: | 4.8% |
| 10-year average for fund investor underperformance: | 2.5%3 |
Other researchers estimate mutual fund investor underperformance at even higher rates—as much as 4% annually4—all from bad timing.
The Best Protection Against Poor Timing Is a Disciplined Strategy of Consistent Investing
If you invest consistently—such as by adding a steady dollar amount to your investments regardless of what the market is doing— you free yourself from worrying about when best to invest, and you'll likely invest more overall. You won't be chasing winners just because they've already won—in other words, "chasing performance." Instead you'll be investing in a smarter way.
We Make It Easy to Create an Investing Plan, to Stick with It, and to Rebalance Periodically
We give you a choice of one-click automated rebalancing strategies or investment choices —including dollar-cost averaging.
And all this is available to you commission-free under our Folio Unlimited Plan.*
Automatically and periodically invest any dollar amount you choose.
Spread your investment across your folios and accounts.
Employ dollar-cost averaging or other strategies—we do the calculations for you.
Follow updates to our Ready-to-Go folios.
Rebalance your holdings whenever you want.